SMALL ISLAND, BIG IDEAS,
SUSTAINABLE CHANGE.
Established as a registered charity in 2004, Shorefast was created to build economic and cultural resilience on Fogo Island, Newfoundland – a region previously devastated by the decline of the cod fishery. With an enduring commitment to Fogo Island, Shorefast is expanding its work for greater reach by sharing new models of place-based economic development with other communities, big and small.
Shorefast's charitable programs comprise a holistic set of initiatives that hold relevance to community economic development – making it possible for local communities to thrive in the global economy.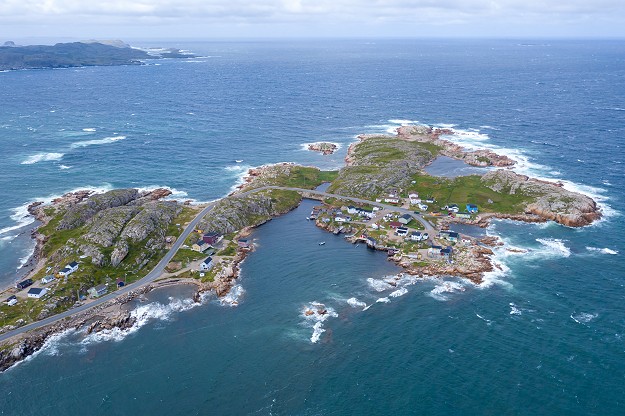 Shorefast is spearheading a pan-Canadian Community Economies program devoted to advancing place-based community development. Shaped by insights and collaborative learnings from our year-long Community Economies Pilot project, the program will enable communities to exert more influence on their economic futures through a ground-up and top-down approach. The program's focus will span large urban centres to rural and remote communities with the goal of building stronger relationships across government, business, and communities.
Fogo Island Arts is a residency-based contemporary art and ideas organization that supports research, production and exchange for artists, filmmakers, writers, musicians, curators, designers and thinkers from around the world. 
To learn more, visit fogoislandarts.ca.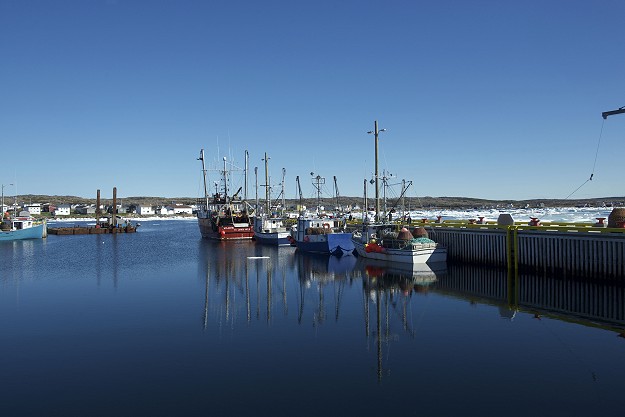 ENVIRONMENTAL STEWARDSHIP
Shorefast is committed to a multi-pronged set of initiatives to engender a higher-fidelity relationship with the oceans. This includes our New Ocean Ethic program, exploration into seaweed farming and other place-based initiatives to help meet the climate challenge.  
The New Ocean Ethic is led by Gordon Slade, C.M., and helps to remind us that if we are to continue to benefit from our relationship with the sea, we must rethink the way we use its resources and exist responsibly on its shores. All New Ocean Ethic projects to date are outlined in the Shorefast 2018 New Ocean Ethic Booklet.
Shorefast has invested in restoring a number of heritage homes, churches, and public buildings in order to preserve, share, and foster contemporary relevance for the traditional ways of knowing that tie people to place. 
The wooden structures of Fogo Island have withstood the harshest Northeast gails and year after year of rain, snowm and ice. The good news? Salt air preserves, and there is a lot of life left in even the most neglected of buildings in our community.
Devoted to knowledge preservation as well as encouraging engagement with the heritage assets of the inshore fishery, the Punt Premises is an example of Shorefast's many heritage restoration projects.  The Punt Premises is home to Shorefast's fleet of punt boats, an evolving curation of cultural artifacts including cod traps and items associated with their making, mending, knots, boatbuilding tools, fishing gear, photos, and more. The Punt Premises brings to life how a family made a living in the vibrant inshore fishing era on which our outport culture was founded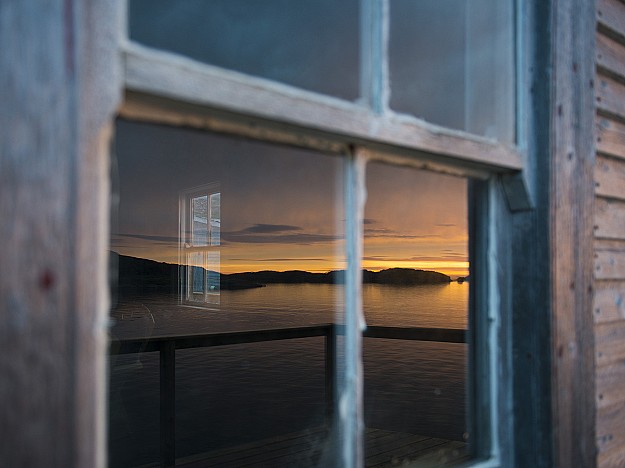 Business is a tool that belongs to all of us. It is a means to develop the capacities inherent in people and communities, to generate employment and build meaningful connections between people and places. Modelled after the Nobel Prize-winning Grameen Bank, the Shorefast Business Assistance Fund provides micro-loans on friendly terms to start or develop locally-owned businesses on Fogo Island. It has supported ventures of varying shapes and sizes, including tourism operators, hospitality establishments and restaurants.
For residents of Fogo Island or Change Islands who are interested in applying for a friendly loan through Shorefast's Business Assistance Fund, please contact programmes@shorefast.org.
Fogo Island is a geologist's dream. With hundreds of millions of years of geological history below our feet, and as one of the few places in the world where the entirety of a magma chamber can be observed, we knew we had to find ways to share the fascinating geology of this place with practitioners, researchers, and community members. Shorefast's Geology at the Edge geologist-in-residence program, led by geologist Paul Dean, is Canada's first community-based geology program. 
Under the GatE program, prominent geologists with varying specialties come to Fogo Island for periods ranging from a few weeks to a few months. They perform research, lead geology walks, and make public presentations in the Fogo Island Inn cinema that are always well-attended by guests and community members alike. 
In July 2017, Shorefast and the Geology at the Edge program were proud to open the Fogo Island Geology Centre in the community of Shoal Bay. Located in the former St. Simon's church, the renovation and repurposing of this historic building was made possible by the generous contribution of Husky Energy. In addition to hosting a permanent collection of geological specimens, maps, and interactive learning materials, the Centre will serve as a venue for exciting geology programming including youth workshops, lectures, and special events.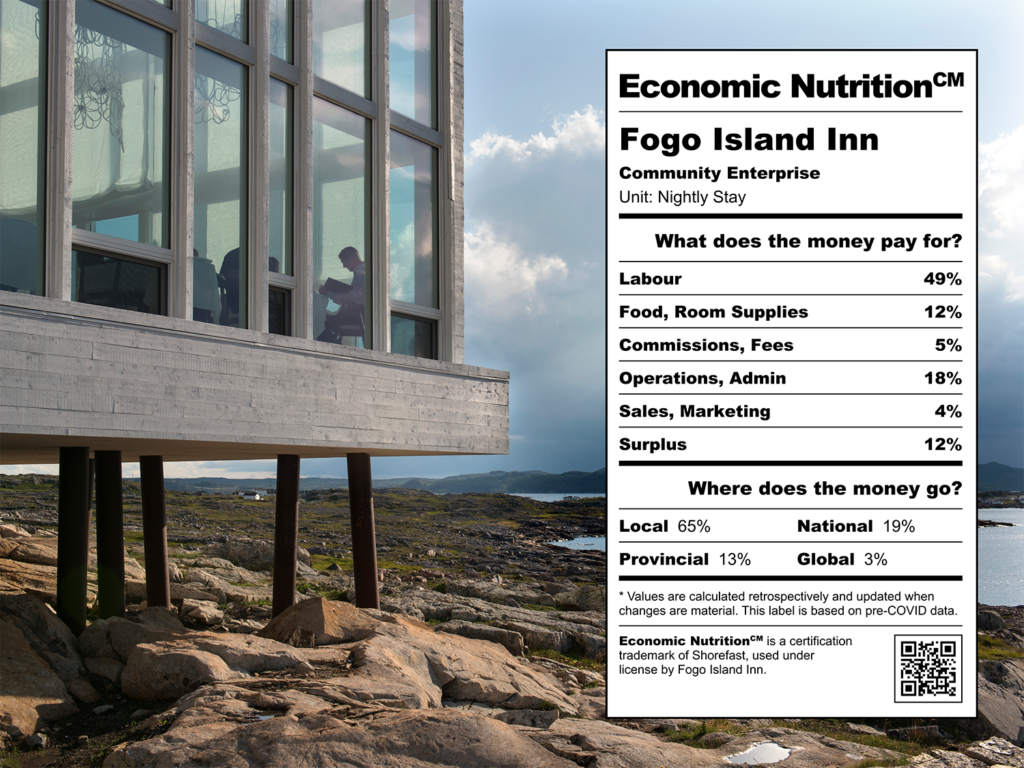 Economic Nutrition is a new way for businesses and consumers to invest in the future of local economies.
Economic Nutrition is modeled after food labels, which help consumers understand ingredients so that they can make healthy choices. In the same way, Economic Nutrition labels show the financial information behind any product or service, empowering consumers to understand how it sustains the economic health of communities.
Shorefast's businesses were established to help grow another leg on Fogo Island's economy, create meaningful employment, generate earnings to be reinvested in the community. Our businesses build on the inherent assets and strengths of place, capitalizing on the skills, culture, and imagination unique to Fogo Island. There is no private gain — all profits are reinvested in the community through Shorefast's charitable programs.
Fogo Island Inn is a 29-room destination property that has won every possible accolade among top hospitality, travel, and architecture periodicals around the globe.
Learn more at fogoislandinn.ca.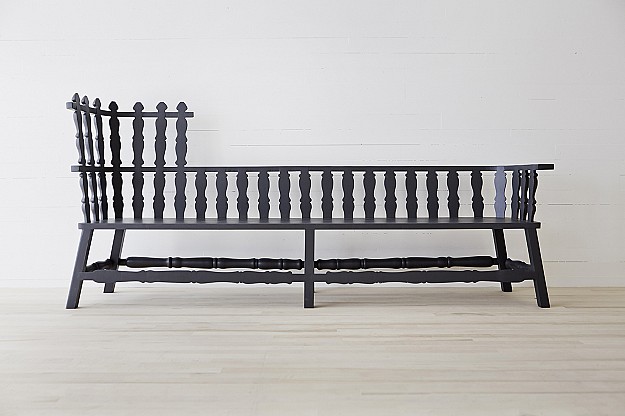 Our collection of furnishings reflects Fogo Island's continuing adaptation to modernity. By combining contemporary design sensibilities with centuries of knowledge in boat building and homemaking, we have created pieces that carry the past while fortifying our future.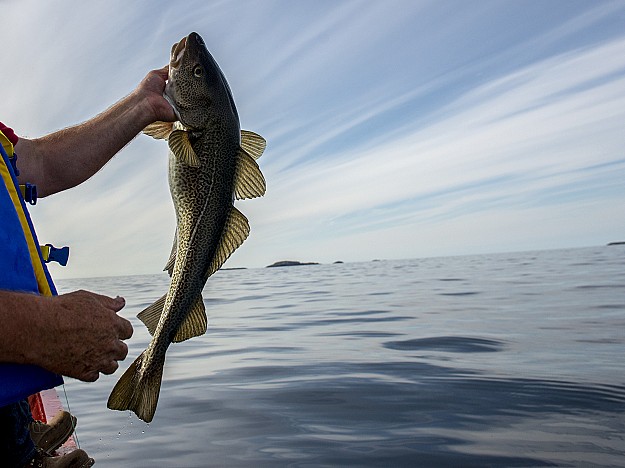 A supplier of responsibly harvested Atlantic seafood from the shores of Fogo Island to Canadian fine dining restaurants and consumers. Working with the historic Fogo Island Co-operative Society, we are generating new domestic markets for premium catch.
Learn more at fogoislandfish.ca.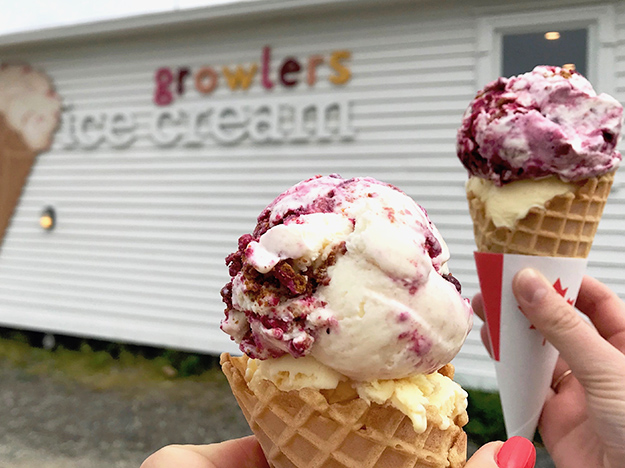 Operating seasonally on Fogo Island, Growlers Ice Cream was established in 2009 and takes its name from the small chunks of ice that break from icebergs or glaciers. Signature recipes were developed by Chef Michelle Leblanc (now co-owner of Chinched Restaurant & Deli) and refined over the last decade by a team well acquainted with the natural assets of Fogo Island. As a celebration of local foodways, each flavour showcases locally grown or foraged ingredients, including blueberries, rhubarb, and crowberries. Growlers' flavours also feature traditional Newfoundland treats, such as date squares and molasses partridgeberry jam tarts. Growlers Ice Cream is located in Joe Batt's Arm, and can sometimes be found at pop-up locations in other communities on Fogo Island.
Learn more on our Facebook page.