An Outport Community
Fogo Island is an outport community: a small, remote coastal settlement unique to the province of Newfoundland and Labrador. Fogo Islanders are people of the sea who have made their living by fishing the frigid and often unforgiving waters of the North Atlantic. A non-capital-accumulating society until the latter decades of the 20th century, Fogo Islanders sustained themselves for generations by fishing as families and relying on an unrelenting sense of resourcefulness fed by a profound attachment to place.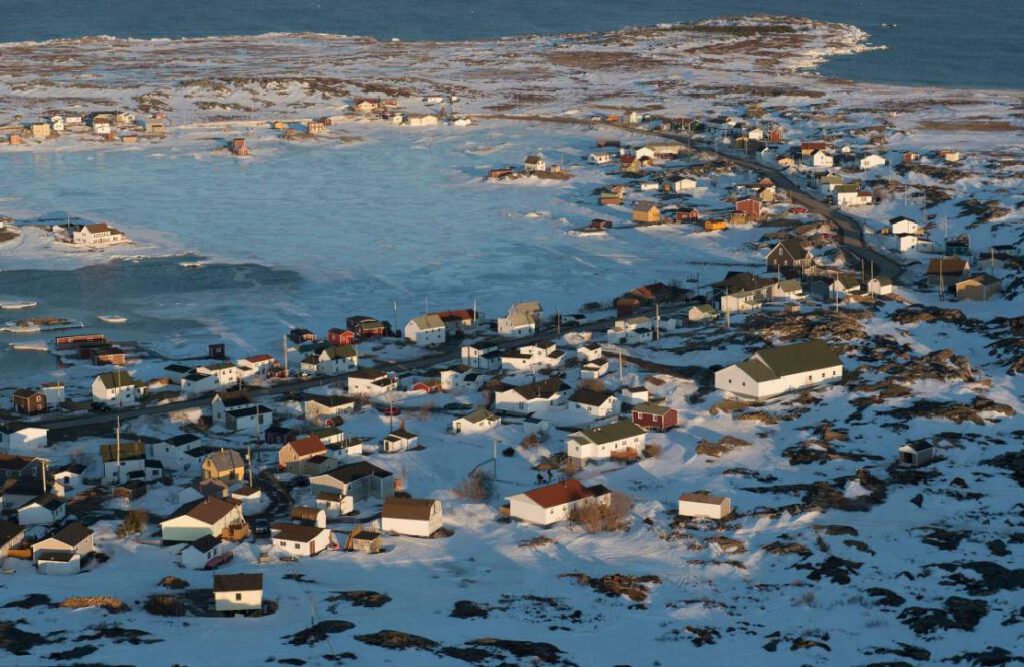 This history of relative isolation and self-sufficiency has shaped Fogo Islanders and the Fogo Island of today and continues to inform the island's economy and culture.
Fogo Island is a settler community and it's important to know that its territory is part of the ancestral homelands of the Beothuk and the island of Newfoundland is the ancestral homeland of the Mi'kmaq and Beothuk. We also take this opportunity to recognize the Inuit of Nunatsiavut and NunatuKavut and the Innu of Nitassinan, and their ancestors, as the original people of Labrador.
Indigenous populations including the Maritime Archaic, Beothuk, Mi'kmaq, Innu, and Inuit Peoples inhabit what is now known as Newfoundland & Labrador.
Archeological scholarship notes that settlement of Fogo Island by the Maritime Archaic and Beothuk populations was "non-intensive," "sporadic," and "warm weather oriented." (Holly, 1997)
"Y do Fuego" (Fogo Island) begins appearing on Portuguese sailing maps
Fogo Harbour is an established summer fishing settlement for fishers from the west coast of England
1738 Records show that Fogo Island has 143 year-round residents (settlers from Ireland and England) who landed 12,000 quintals of fish that year
Fogo Island fishers begin travelling to participate in the Labrador fishery which supplemented the Fogo Island seal and inshore fisheries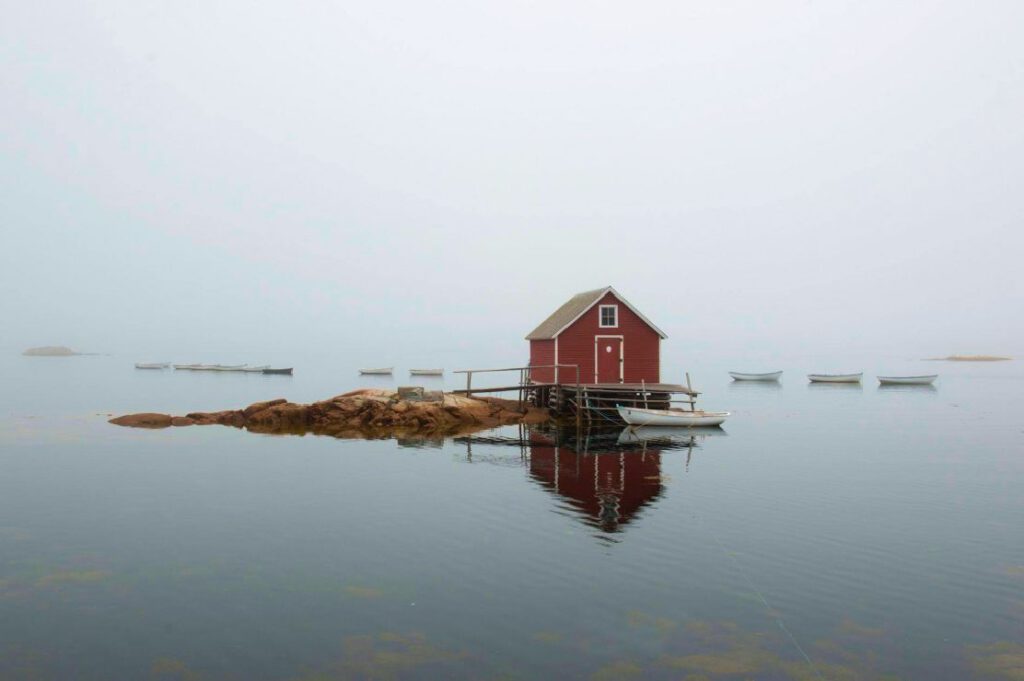 Fogo Island boasts 18 small communities and a total population around 3,500. As would be the case until the latter decades of the twentieth century, residents were divided along religious lines (Protestant and Roman Catholic)
Fogo Island Improvement Committee is established to work on issues ranging from transportation to the fishery and recreation
Advent of factory trawler ships; Fogo Island fishers notice inshore cod stocks are dwindling as a result of overfishing
As part of the "Challenge for Change" project, the National Film Board and Memorial University's Extension Service conduct a participatory film project that will become known as "The Fogo Process"
As a direct result of the "Fogo Process," the Fogo Island Shipbuilders and Producers Co-operative is established, marking a moment of incredible unity for the previously separate communities on Fogo Island and ultimately allowing the Island to resist resettlement
The Co-op has 575 members and receives government grants to construct a longliner shipbuilding yard at Shoal Bay
Fogo Island's regional high school opens; the first religiously integrated high school in the province.
Venture Academy, Fogo Island's central, religiously integrated elementary school, opens in September
The Canadian government imposes a moratorium on the Northern cod fishery along the country's east coast
Fogo Island fishers invest heavily in crab fishery, as the Fogo Island Co-op aims to diversify and lessen dependence on cod post-moratorium
Shorefast projects begin with planning, ideation, and construction
Shorefast's founding initiative, Fogo Island Arts, launches with artist-in-residence program
Fogo Island's communities amalgamate under the Town of Fogo Island.
Fogo Island Inn opens to guests
Fogo Island's communities retain their cultural histories while the Island as a whole progresses forward. "We are ten cultural communities, one economic community"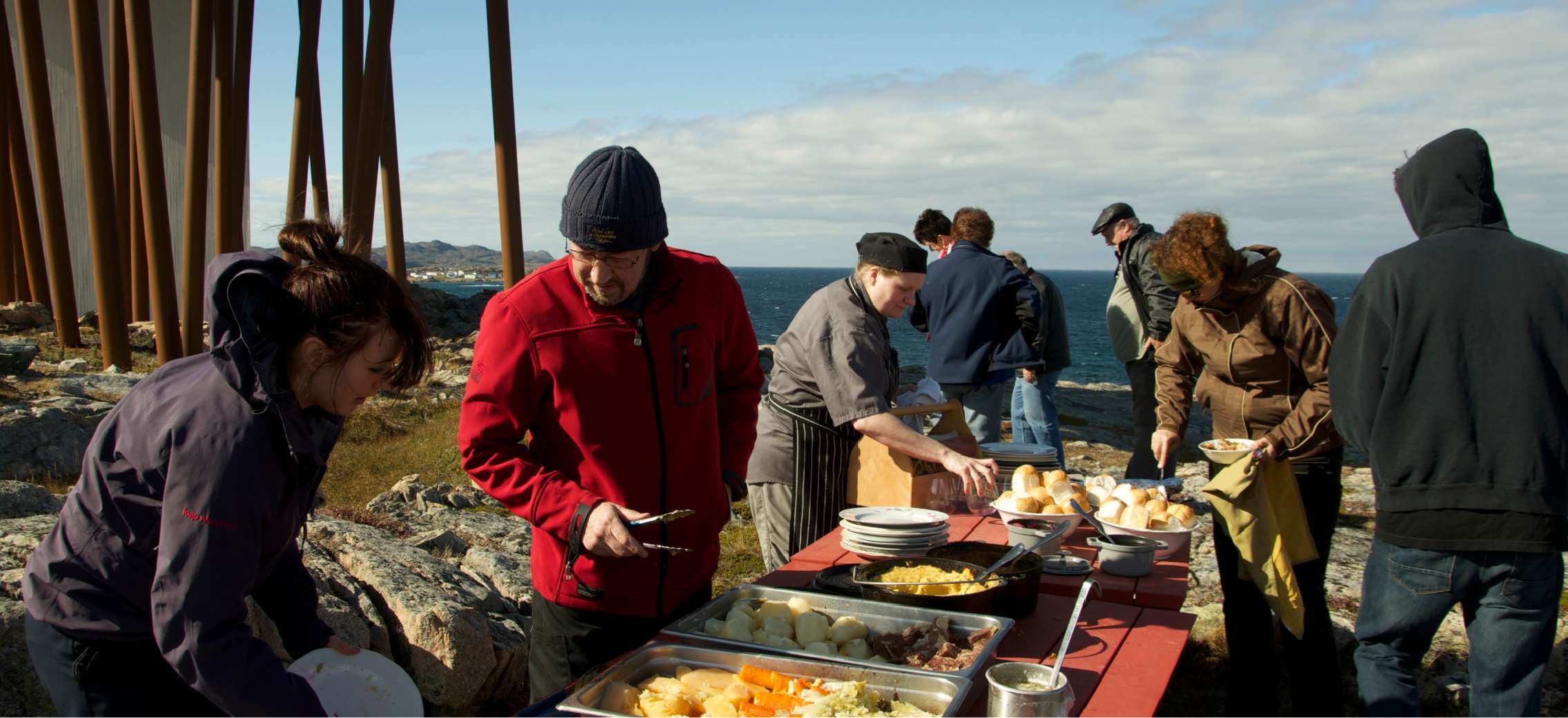 Fogo Island Today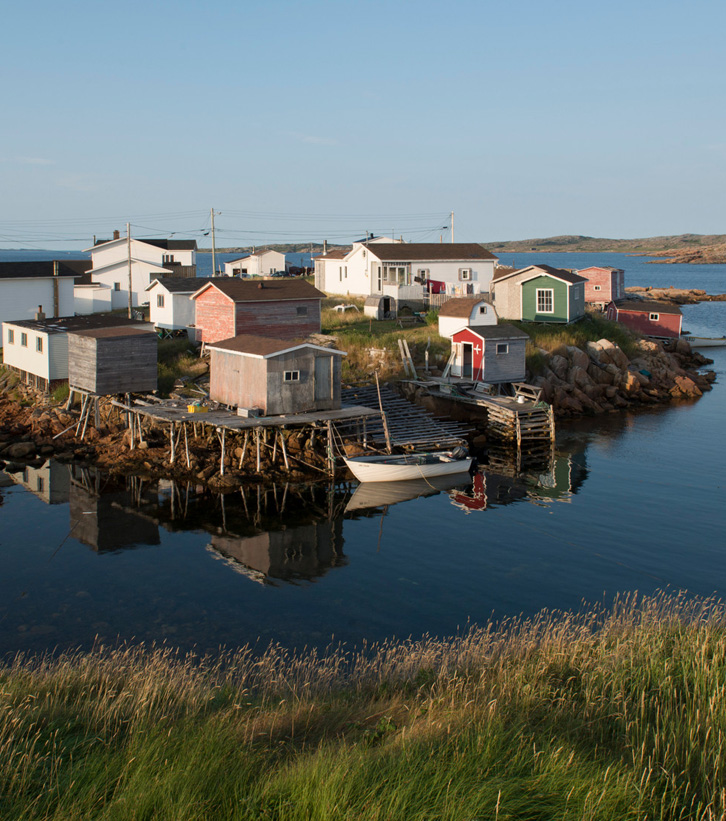 "I'd be a Newfoundlander, outport born, outport bred, of outport strength and tenderness of heart, of outport sincerity, had I my birth to choose."
—Mr. Coaker, 1909
They came for the cod and they stayed for the cod, and the fishery is still the main cornerstone of our Island's economy. Through the Fogo Island Co-operative Society, a direct result of the participatory filmmaking project now known as The Fogo Process, our fishery remains community-owned. It has expanded since the 1960s collapse of the cod fishery to include species such as crab, shrimp, and turbot, and our fishers have adapted to the new technologies and equipment.
Today, Fogo Island is a contemporary outport community that boasts the best of rural living alongside opportunities and amenities some wouldn't expect to find on a remote island. Depending on the season, residents find solitude and recreation along hundreds of kilometres of coastal hiking trails, snowshoe or skidoo across frozen ponds and barrens, swim in crystal clear ponds, and stargaze from their oceanside homes. They can also avail of high-speed internet, delicious cuisine at local restaurants, and glean new ideas and experiences from our thriving community of local and visiting artists, scientists, and other practitioners.
Increasingly recognized as a dynamic and evolving entrepreneurial community, Fogo Island is often referred to as a 'gateway for seeing and believing' in acknowledgement of the powerful ways the island has centered connection to nature and culture as a way to build toward a more equitable economy.
Art, in the form of short films, helped prevent resettlement of Fogo Islanders in the 1960s.
The Fogo
Process
National Film Board filmmaker Colin Low and community worker Fred Earle worked from the vision of Donald Snowden, head of Memorial University's Extension Service, to produce 27 short films on Fogo Island. Each film catalogued daily life, challenges, celebrations, and ultimately sparked a dialogue between Fogo Island's distinct communities, which had no previous history of collaboration.
These films catalyzed much positive social change by helping Fogo Islanders see their similarities and work together to forge a plan for the future.
The Fogo Process films can be viewed on the National Film Board's website.
A sample can be viewed here: